As mothers (and grandmothers) go, she was pretty amazing. Three years ago on Mother's Day, Polly collapsed in her kitchen. Less than three weeks after that she was dead from a brain tumor. I'm sad that she never had a chance to meet Javier and the girls, sad that she isn't here to talk to today. I miss her. Here she is with Jack when he was just 10 days old or so; just look at how she loved him.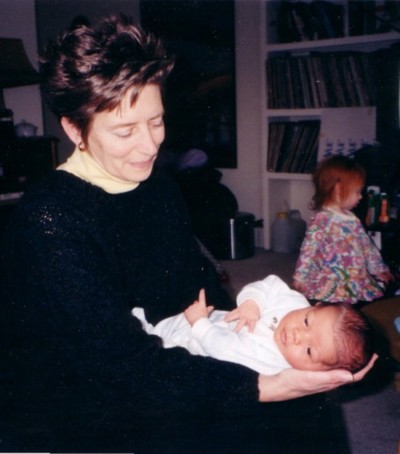 I'm thinking also of my grandmothers – Grandma Lil who let me live with her for a year when I was 18 and working in Cleveland on an internship. She suffered through my late nights and drunken escapades so gracefully. She had a beautiful, enormous house in Shaker Heights full of wonderful art and lots of books (she ran a publishing company which she inherited from her parents). I'm thinking also of my mother's mother, Bampy, who I never really felt close to. She moved to Florida when I was young and I would visit once a year. She and my grandfather would always take us to Disney World. Bampy loved watching detective shows on TV and reading sweeping historical novels. She baked fabulous cookies at Christmastime and was always working on needlepoint until her hands gave out because of the arthritis. They had a cute little house with a lanai just outside of St. Petersburg. My grandfather had an orange grove in the back. Bampy made things like Chicken A La King using the Campbell's Soup recipe.
Thinking of my own mother, too, and wishing there was some way to let her in closer without her stepping all over me. I feel sad keeping her at arm's length, but it's the only way I can make it all work. I called her today and wished her a happy Mother's Day. You should call your mom, too.