The Goods
I love presents. Brian's mother sent me birthday money so I could go out and buy some boots. I promptly (after finishing all of my work, that is) headed for Nordstrom's and fell upon this pair of Franco Sartos: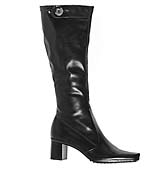 Style name is "Rachel." Rachel happens to be one of my top choices for girl names, I might add.
Then it was time for dinner at the fabulous Habana (previously mentioned
here
).
At dinner, I opened my present from Brian, which turned out to be some very chic salt and pepper mills from Williams-Sonoma, they don't show them on their website, but I assure you they are exquisite.
Jack picked out some pear-scented votive candles for me and Eli gave me a lovely rose (Brian brought me orchids AND lilies on Monday night as well). Fleurs!
All in all, a good birthday. Of course, there was the box from my mother filled with strange plastic vases wrapped in newspaper and a drab olive green shirt. Plus a copy of
The Three Little Pigs
, which I have to assume is for my children, but was just stuffed into my birthday box for economical reasons. Oh, and there was a clipped recipe in there as well. It could be said that my mother doesn't exactly have a flare for gift giving. I did get a lovely email from an old friend of mine, calls from 3 of my 4 sisters (one of whom moved to California a MONTH ago and did not tell me, this is how lame we have been at communicating). My dad called me first thing this morning, and my mom called this evening, so I'm feeling pretty well remembered and gifted today.
I hope Jesse and Jesse got some good presents too!